For hundreds of years there were few changes in the types of work available, mainly farming,.fishing, trading and associated employment in the service of large houses. Then came the Industrial Revolution, which created business opportunities and vast employment possibilities in the towns and factories. However, it almost destroyed the traditional methods of earning a living by emptying the countryside of labour as people streamed into the factories to earn steady wages. There was little education and youngsters could start work at 6 years old. With low wages being offered, it was important to the family that everyone pulled their weight and got a job. It was not living, it was surviving. Today youngsters have the chance of a good education leading to a choice of career and they do not leave school until at least 16 years old; if going to university they can be up to 25 years old before going into employment. But it was not long ago that children left school at 12-14 years old to seek work, any work, and many of those who contributed to this book recall these times.
"Well my father came from Midsomer Norton in Somerset and he was from a big family, so he told us. He told us that when he was 12 he trekked from Somerset right up to Poole, working on farms and sleeping on farms. He'd stop at a farm for probably 6 months or 9 months then he'd move on, and he finished up at Upton. He worked on the Holes Bay railway (the railway that runs across Holes Bay), when they put that across. That was one of his first jobs, well before I was born."
"We left school at 14yrs down there. I was only 15yrs when I went from Poole to Shell Bay every day, the person had a boat and I used to ride to Poole Quay. He was a friend of Mum and Dad's and had a place at Shell Bay so I had to go to work for him from Poole Quay in a motor boat every day."
Even then, education could pave the way to a career:
"I had been going to Bournemouth College at the Lansdowne for 3 years of evening study, which paid off with middle management positions, culminating in Manager of the Heating Department which is now a Division with a multi million turnover. I was promoted to North East Regional Manager when Hamworthy acquired Wallsend Slipway."
"I went to Parkstone Grammar School and firstly I wanted to desperately be a nurse. Because I was so tiny when I left school, I don't suppose I weighed any more than 5 stone, everyone said "You won't be able to be a nurse, you're too small". Of course in those days if your parents said that to you or other people said that, you went by it so as I liked chemistry I went to what was then the British Drug Houses in Poole and later called the Technical Services Branch. I was there for 10 years until I left to have my daughter and then in later years I worked in part time in the library."
But there were other ways of working up the ladder in a firm or career:
"I went away to Christchurch to serve an apprenticeship as an engineer. In my 21st year I married my wife in 1958. I did my apprenticeship at SRDE, its actually Scientific Research and Development Establishment. I won a scholarship so I served a 5 year engineering apprenticeship. I cycled 17 miles to work and 17 miles back, people wouldn't do this now. I think I did about 35,000 miles to work and back on a bicycle just to serve an apprenticeship."
"I was apprenticed to a firm in Poole when I left school, served 6 years there in Burt & Vicks, they were the top firm around then. The foreman advised me to get out otherwise I would always be 'the boy', he did not want me to go and said I could start again tomorrow. I had 7s 6d a week at the beginning. I started at 15yrs. I hunted around and worked away from the firm so that I could get experience and other ways of work as no 2 people work the same. Did that on and off for years, used to go back to Burt & Vicks for a couple of years and then go off somewhere else again. I worked all over Dorset."
Apprenticeships were successful because you were working beside and learning from skilled men, as long as they were prepared to help:
"The question's were to do with the apprenticeship, how you were progressing. If you had a problem then you knew who to turn to. Not only did they tell you about your trade, they told you how you could work in with other trades like bricklayers and plumbers, and how you could make thinks difficult or easy for them beforehand. The idea was to make it easier all way round, make it all better for yourself too. I'll give you one instance, I had been there about 4 or 5 years and I was working alongside a chap who used a steel square, I've got one down in the shed. I couldn't understand how he was working it out, its 2ft long one way and 18inches the other and I used to watch him all the time, like marking out stairs. I asked him and he said "if you watch long enough, you'll find out". I had to find out what he did and what figures he was using and when Sam went to the loo or something, I would go straight round to his bench to write down what he was doing. Another man said "that's alright but I know a better way", and he taught me how to mark out stairs and roofing with a steel square. One day the foreman, he came from Manchester, said to me "have you ever made a flight of stairs" and I said "no, the chap I work with makes them all the time" so he set some up for me. "I've got a dog legged terrace for you". It's one that goes up short to a landing and up again to another landing and up again to another one, called a dog leg. I chopped this lot out by hand where the screws and treads were going and I think he was waiting for me to make a mistake, watching me but I got it together. The dog leg can be put together on the ground in a big shed so I had it all cocked in together, of course none of it was fixed but I had it all morticed in like the hand rails and holes bored for pins to hold them. I think I got away with it. I learnt from evening courses how to do it and they helped me a great deal, I worked with top class tradesmen but they would not tell you anything, they clammed up. I suppose they were afraid you were taking the job away from them."
"I served a 5 year apprenticeship, I was bound to that and had to stay there, and then I had a 12 month improvership which I stopped on because you got more money. I had 7s 6d a week at the beginning. I started at 15yrs."
Poole had always been a centre for employment, which slowly moulded the town into today's shape:
"Go down to Baiter and you'll find the footings of an old stone building, the Powder House; years ago when Poole was a bit smaller, they used to take all the powder down there, away from the town. The powder was gunpowder, they did not have cordite then, this was 1908. The Powder House was mostly still there when my people took over, it was a fever hospital once which was transferred somewhere else. The first thing I can remember was climbing the steps there to go into the house, the tide used to come very high round there and my father was working for the Council, that's how he come to get the place anyway, his job was to retain Ladies Walking Field. It was just a big grassy marshy place down by the railway line and back to Kingland Road, all through there. He used to collect all the stuff that was brought in to be dumped, he spread it and built that ground up, he worked for the Council for years like that, doing that sort of job, it took 7 years to do I believe. Ladies Walking Field went from Burtons shop on the corner and up to the Grammar School and that was just a big marsh, it was tidal at times because I can remember seeing the water up Poole High Street."
There was quite a variety of work available in the Poole area and the wages were just as varied. People would move around in jobs more if they had a skill in order to get a better wage.
"The main bus stop in Poole was on a 20ft. diameter roundabout in front of the George Hotel at the top of Poole High Street, from there the buses ran to Alderney and to Bear Cross. The buses left Upton every 20 minutes via Hamworthy and Poole bridge. The bridge was always up with wartime shipping, there was no Power Station then but a wharf, boat building was done by Bolsons Yard where Sunseekers are today. Dorset Yacht on the Hamworthy side also built ships and the Quay was full of Naval ships and cargo ships. Along the Quay were flour mills and at the far end was the coal gantry, which led to the Gasworks where Sainsbury's is today. A German bomb sank a ship moored alongside the bridge, another 40 foot and the bridge would have been destroyed, solving perhaps some of today's problems."
"I left Aish for more money and got a job as a draughtsman at Birds, last in and first out so although with twins on the way, I was made redundant. I did not have a car, I couldn't drive but I had a bike and I was lucky. Within 2 weeks, I was a draughtsman at Hamworthy Engineering, designing combustion equipment for £15 a week."
"So then because I could not go in the Army, I went to JR Smiths, which was a major employer in Hamworthy. They were a steel construction firm and a lot of the employees were Upton people. I did 15 months in J R Smiths down Hamworthy, then I went to Winfrith Atomic Energy Establishment at Wool and I did 5 years there. Then I went to Nuclear Graphite in Creekmoor and they made atomic reactor protection shields which were made of graphite to protect the reactor from allowing any atomic discharge and I worked there for 15 months and then I went temporarily to Hamworthy Engineering and worked there for 30 years. Hamworthy Engineering did all manner of things, they actually are departmented into 5 divisions so I worked in punch and compressors first, then I went to hydraulics, then there was oil burning, then combustion and then there was transmission; all different divisions of Hamworthy but I dare say at the end of the day, all Hamworthy. They were major employers of Upton people and they had thousands of people working there, I would say at the moment now under modernisation, of which I had a major part to play in it, its now down to half through automation, which is what I did. I automated things, I made myself redundant in other words and lovely too."
"Then I went to Woolworth's, this was in Poole and I used to cycle into Poole on my bike. We all were given a counter in those days, great big counters and you were behind them, now everything is help yourself. You would fill up the shelves that were at the back behind you. Because they knew I loved garden things, they put me in charge of the gardening and I had to make sure the flowers looked right and the prices were right. Yes, that was quite a nice period of time and then as the War went on, four of us said we would like to go in the NAAFI (Navy, Army and Air Force Institute) and help with the troops."
"January in the spratting season, when the fishermen catch the sprats, (little fish for eating) and what the fishermen could not sell they used to bring up to the farmer for manure, because they used to have good catches in those days, not like now. Then when we used to go down to the farm the boys used to say "Do you want some sprats?". We used to say "Yes please" and go down in the Dairy to get a bag and get some sprats and take them home. They caught the sprats in the Channel, they were all local caught, not in Lytchett Bay but in the Channel from Poole in the boat there. They were all right, they might have been caught in the week and those that didn't sell were brought down here. They were probably down in the field a couple days perhaps and we used to go down at the weekend because we were at school in the week and fill a bag up. Hasn't done my family any harm really but would probably be frowned on now."
"My mother used to work at The Royal Ordnance Factory (ammunition's factory) which is now Plesseys, a computer firm."
"At Sykes Pottery at Creekmoor, the jobs were hard, it was slavery, it wasn't worK."
"Her husband after the war went to work for BOH (British Drug Houses) in Poole, the company that had built the houses in Moorland Crescent and Guest Road and part of Pinewood Road too. So she was living in Moorland Crescent for some time."
"BOH came in and they built their houses there for the BOH people to come down from London and that was how Moorland Way first started."
"Then eventually BOH came down here to West Quay Road and they brought all their staff down and they built a number of houses on the site of the old Nissen huts, where the soldiers had lived and one of those roads 'was Guest Road. Anyway there were BOH houses there, later on council houses."
"After the war Mr Hickman came down here and bought the factory on which the Upton Industrial Estate now stands. There was a factory there - during the War it was for war work. Well when the War finished they put a pipeyard there."
"When I went to work for Oecca it was a much better place but I started at the garage and I was only the boy and was working a 48 hour week there. £1 a week I was getting then, I used to give my mum 15 shillings and I had 5 shillings, my dad died just as I started there and I stayed with the garage for about 18 months and I was earning about £1 10 shillings. Then when I went to work at Oecca the record company and that was the same, you were paid piece work and by results there and my money went up to £4 a week, I was chuffed. Then I went to the brickyard and that was £5 a week and then I went in the Services, called up."
"My father worked in the clay pits, my husband worked for the District Council."
"When I started work on the milk round I had 12/6d a week. 1 only got 7/6d in 1940. In '51 I got 12/6d. 1 earned 7/6d in the garage when 1 started and in 1946 I had £1.19s I think it was - that had to keep myself and my wife and I had to pay £ 1 lodgings. I think the average wage during the War was about £4. When we first came into this house it cost us 16s for rent and 4/3d for rates."
"I went to work for the British Rail Service at Parkstone because 1 was a mechanic in the Air Force, I learnt my trade and I worked for British Rail for 3 years. Eventually they sold that to a private concern so I had to get another job so I went down to Poole, used to be a garage at the top of Poole High Street, by The George Hotel, called Woosters Garage. I went to get a job for Seagulls, they make the outboard motors, they had a place at the back and I couldn't get a job there but the foreman at Woosters said "I'll give you a job" so I stayed there for about 6 months with them. Well then I heard Decca Record Company had opened up again and I worked for them for about 24 years before they shut again. Well then I finished up, I did 6 months at Hamworthy Engineering but I didn't like that and I went to work for a firm called Coastal at Holton Heath making secondary glazing,"
"I left school at 16 yrs, I stayed on for a year because you would normally have left at 15. I started training as a telephone operator with the GPO (General Post Office) but I didn't work out at that and I then worked at the Gas Board at Bourne Valley as a clerk/typist. I took typing at school, that was another facility at school, we used to do typing but we didn't do shorthand, they didn't have the facilities for that. I earned about £7 a week, I was quite well paid there and I worked from 8.30 am to 5.00 pm with an hour for lunch and 1 used to, very unusually, have my money paid into my bank account at Upton which was quite unusual in those days. I had to get a bank account and it was very difficult to get a bank account in those days at 16 yrs old. So I had it paid into the Trustee Savings Bank because that was the only other option from an ordinary bank account. The banks would not give you a bank account at that age, you had to have references and it also cost you for every cheque you issued whereas the Trustee Savings Bank was just a savings bank. I couldn't issue any cheques but I could draw out money to pay for things. I worked 5 days a week, 1 didn't have to work Saturdays for that."
"I went to Bournemouth Gas Company and worked in the drawing office there. After about two years working at the gas company, there was a vacancy for a tracer at Loewy Engineering Company. I worked as a tracer, a particular profession that's disappeared now with the advent and ease of production of photographs etc. I went as a tracer to the Loewy Engineering Company. I worked in the office with a group of girls, there were about eight of us, all working together. And that was a lot of fun. It was a very interesting place to work. It was a company of basically Czechoslovakian Jews who had come over here at the beginning of the War and they had an enormous amount of expertise. It was really a very friendly, happy company. Being run by the Loewy brothers. I continued to work for Loewy Engineering Co. where I was paid £10 per week, which was a lot of money in those days. I used to be paid in white fivers, which I put in the Trustee Savings Bank in Poole and of course I had my 5 bob a week."
"Incidentally, my father worked for a company called Loewy Engineering Company and they had their offices at Branksome Grange where is now the Victoria Home for Crippled Children. I don't think they're called that now. It was a gentleman's residence in Branksome, off Lindsay Road. There were people working in the drawings rooms and in the attic, and all over the place. My mother never worked. Not when she came down here. She was originally in the shoe retail business."
"I was working for a company called Loewy Engineering at Wallisdown which eventually became Davy Engineering and I worked there for 38 years and very fortunately travelled around the world quite a lot and managed to take my wife with me."
"Then I went to work for a scrap merchant - scrap merchant, demolition, haulage, roadworks, bulldozers - and I was up there for 35/40 years. That was Cobdens in Ringwood Road, Parkstone, I was there for 35 years, then I had back trouble (I wasn't retirement age, you see) so I finished up there and I went to Decca Records at Holton Heath. I wish I'd gone there when I left school because where I was for 35 to 40 years it was really hard work; in that time we demolished 2 of the Poole Gasworks, the Salisbury Gasworks and the Dorchester Gasworks, we demolished all them. And when I went to Decca to work, I thought I was in a holiday camp. I was there at Decca for 2 years but they made redundancies. Well, seeing that I was the last one in, I had to be the first one to come out. So I went from there to Seagull, down at Fleetsbridge, and I was there for 2 years and then I come up 65 and I finished work then. Well I say I finished work - after that I did some work on my own, gardening work down at Canford Cliffs and Lilliput until I got fed up with working and packed it in."
"Another piece of excitement along the Blandford Road North was in 1988, when every Friday the road was closed between the Limberlost and the roundabout near the Cemetery. Along would come a truck towing an enormous tanker, which was being transported to the Wytch Oil Fields out at the other side of Wareham. And they used to come along, as I say, every
Friday and it was quite an event for us local people. We used to go out and see the Police cars, which would be ahead of the convoy and also in the rear. The men on the truck towing this vast tanker would in fact wave to us locals as they passed by and we began to quite look forward to seeing them as they passed every Friday. The length of the tank, which was being towed was two hundred and twenty feet in length, so you can just imagine how large it was."
"I went to work at Millers (the food factory). They made pies and sausages, in those days and (because everything was on ration) they just did a certain amount each day, and if you'd finished using all the meat and things, you just cleaned afterwards. We used to have the troops come in to collect pies and sausages and it was a small factory compared to what it is today. I actually used to do fire watching there through the War, where you watched on fire duty. There were 4 of us from Millers and you had to stay there overnight and Freddie Miller, who was the actual owner of the factory in those days, was one that was on my team. Well, I was on his team, I should say. We had a very small mess room and the women slept there; and the men slept out in the factory. But if the siren went, of course you had to put a hard hat on and go watching for incendiary bombs and things like that. I stayed there until I was 18, and then I had met my husband, and I went to work at Carter's Tiles down in Hamworthy, because they paid the best wages and I wanted to save."
"My father was a metal worker and he used to work down at Hannafords, used to be the poultry appliance place down the road here just down Blandford Road where the industrial site is now on the right hand side, before Turlin Moor. Hannafords made incubators and feeding troughs and feed cups and water cups for rabbits and all that sort of stuff but they also made the sheds, wooden sheds The Hannafords used to live, when you go down the road from the crossroads down a hill and up over the other one and down the other hill, they used to live halfway down; the house is still there and the rest of it right down to the boundary of Poole used to be their poultry farm. That more or less finished as the War knocked a lot of it on the head because although Hannafords carried on a little while, most of the factory was taken over by Metal Box, or Wallace Tin as it was called then. They came down to Hamworthy before the War and they made the metal tops for the jars and of course when the War came they went on to war work besides doing their own stuff and they took over some of Hannafords place, their workshops."
"My first job was Hannaford's, down on Hamworthy Road. Now, I earned 7 shillings and sixpence a week - that was for 5 and a half days - which is 35 pence today."
"I worked down Hannafords when I left school. Making crates for 'Hovers'. They used to send most of the crates to Ireland. I used to wheel them up to the station on a barrow, not that far from the station. Hovers are for young chickens. They are made of metal and have a lamp in them to keep the chicks warm. Sort of incubators."
"I did office work all over the place, down at Hannafords (where Sherry & Haycock are now) and they were in portable buildings, then I went to Munitions for a while during the War, then I did a session down W E Masters. I retired 20 years ago after I ran a sub-post office in Bournemouth for 15 years. I lived over there then and then came back to the village."
"People worked in Poole mainly, not much in Upton. The poultry farm was not there until later. When you went to work in those days, either you took a job say at the Cordite Factory where you would be getting a regular wage coming in at Holton Heath, or you took a job say up at the Brickyard and if it rained all the week, you didn't get anything."
Manual work could also be dangerous, accidents would affect the whole household:
"Then I don't know what happened, I think my father did a spell up at Holton Heath - that was one of his last jobs. He had to come out of there because he was 65, you see. Well then he retired and went to work for Mr Udall, the farmer. Where Lady Lees's place is and up through to Limberlost, well that was Udall's Farm there. He went there to work until - oh he must've been quite an age when he left there. One day he was ploughing under a tree down the road here and the ploughshare hit a root and stopped the horses dead and the ploughshare went into his ribs and broke his ribs. So he had to pack up working - that was the end of his working life - he was getting on then, mind. Course he was a big strong man - he was 6 foot 2."
However, one of the main employers outside Lytchett Minster and Upton was the Naval Cordite Factory at Holton Heath: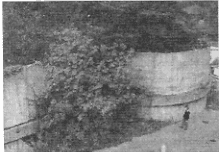 "The two Wars had a great effect upon Upton. Holton Heath munitions factory was built before the First World War when Winston Churchill, as First Lord of the Admiralty, wanted to ensure a supply of cordite for the Navy, and this isolated site on the heathland bordering Poole Harbour was chosen. Holton Heath, which then had a workforce of over 4,000, mostly women brought in every day by train and coaches."
"Holton Heath was famous for its mile long black railings around the site, from the side of the Holton Lee entrance (near Romany Business Centre now) up to the Holton Heath traffic lights and along to the station. THe original Dolphin Lodge was the hospital for the Cordite Factory."
"Holton Heath at the end of the First World War was rebuilt - the hill was rebuilt by the Germans and a German crew. Holton Heath itself had its own pumping station at Corfe Mullen. This has now been taken over by Wessex Water but during the War - this is the 1940's War - the pipeline running from Corfe Mullen was guarded at every place across the road by the Royal Marines. The road that runs from the Bakers Arms up to Holton Heath along by the factory fence, that used to be shut, only personnel that worked at the factory could go there - you had a special pass to get through. This was again guarded by Royal Marines. The factory itself produced cordite gun cotton. It's all explosives that were used by the naval guns. The cordite was the most volatile because in the process they used nitro-glycerine, the slightest spark or any contact it would explode. This was one of the reasons why they had the explosion in the early 1930's when quite a few people were killed."
"The factory itself was quite a big place - about a mile in every direction - in the early days when I first worked there, at the beginning of the War I started, I was waiting to get a trade exam to get a position in the maintenance department. I worked as what they called an errand boy. We used to take the post round all the factory and we used to ride round on bikes giving it to all the different departments. We used to go round twice a day, once in the morning and once in the afternoon. At that time working at the main office, when the air raids were on, we used to go up to the control centre and all the information came through on all the air raids that were in progress. In that department we had to push the planes across the board for the Superintendent because all the hobnobs were there at that time. Anyhow then I passed the trade test and went down to the maintenance department and I was taken on as a chemical plumber and we used to make lead vessels that all the different chemicals were mixed in to make the explosives. Lead lined because otherwise the chemicals would eat through the normal containers."
"The most dangerous part was the hill - what we used to call The Hill. This was quite a big building covered with earth and we went into the area where the cordite and all that was made and processed - we had to wear clothing without any buttons on. It was all ties and no shoes with any metal laces on because when the cordite was rolled out it went through big rollers and if there was any metal that got in there that would be the end of the process. But if we worked in The Hill itself where the nitro-glycerine and that was made and pumped in to make the cordite - if we used a hacksaw or a spanner we had a chemist standing over us playing a hosepipe on our tools because any spark or anything . e that would cause an explosion. It was very volatile. For the gun cotton we used lead to line the vessels there and they were big vats and of course that again is explosive for the naval guns. Gun cotton is another explosive that went in the shell. All we did was line the vessels. The factory itself was self contained - it had its own power station. It had its own landing stage at Rockley. Where the barges used to come in from Portsmouth and Plymouth to take the explosives away. The barges were in the same style as landing barges which were used during the War - so these were flat bottomed for coming up through the shallow water. They had cranes there to load on and off. The original jetty, I don't know what they've got there now, but the original one has gone. Also the trains used to stop and pick up - they had their own siding. Again the Royal Marines patrolled the perimeter fence and they had their own police that also patrolled. Right at the beginning of the factory road was - it's been pulled down now I believe - a big wooden building where the Royal Marines were billeted during the war."
"But my grandfather helped build the Royal Naval Cordite Factory, he was a ganger, and they built the buildings in the factory. My father worked in the Cordite and so did my uncle. My brother worked in the offices there for some years and then I went there - a family concern."
"I worked at Holton Heath from 1936 to 1945 in the main laboratory, and I was involved with development work as a lab assistant. Development work on flashless cordite. The cordite, which was manufactured at the Royal Naval Cordite Factory, was the propellant that takes the shell out of the naval gun. If there was a battle at night, the enemy could see the ship's position by the light's flashes, so they developed this flash less cordite so they could not be placed when the shells were fired. The Cordite Factory officially had been working up from 1936 - they knew the War was coming and gradually expanding. I loved chemistry and I went into the lab. We had chief chemists and then another chemist in charge of development and research and 1 did quite a lot of work for him on this Picrite which was added to the other ingredients of the cordite to stop the flash and it was really interesting work.
"The shift increased in the lab whilst I was there. When I first started there were only a very few women, a secretary and a woman in charge of the NG (nitro-glycerine) lab with an assistant, and perhaps 2 more. I was one of the first of the new intake and in fact I was the first one to work with men in the main lab. I started and another Eileen started and then a bit later a third Eileen started, so of course they had to do something about this. I was called Craig, the next one was Cass and the third one who came in kept her name, Eileen. In the laboratory we worked office hours to begin with, which was 9am to 5.15pm and Saturday mornings 9am til 12.15pm, Then as people were immobilised, they had a small camp near the Cordite Factory gates and you could hear the bugle calls during the day They had an army unit at the top near the main road, not near the railway station."
"A lot of the workers came on the railway but also a lot cycled. 1 should say about 50%, and the reason we were given for being diverted was so that as the shifts came out of work at night, the lights even with restricted lighting did show up on the bridge. I was cycling from Parkstone to Holton Heath and of course cycling through Upton. Well when the War started, they shut the road from the Bakers Arms over Kingbridge and we had to come round Organford. Immediately on the outbreak of War, they had the Territorial Army guarding Kingbridge because the water supply to Holton Heath came from the old Admiralty pumping station at Corfe Mullen. It went under this bridge so the water supply was vulnerable at that point, and they had a guard on that."
"Father was a gardener - a professional gardener. He worked for Holton Heath - he ended up at Holton Heath, about 4 miles away So that would be about 4 miles he would cycle. Well in those days 3,000 worked there, 2,900 of them would ride bicycles to work. They wouldn't come from just Upton, they would come from all around, Christchurch, Blandford, Swanage and Dorchester and their only transport was bicycle. And when they let them out at night coming along here there was nothing else but a continuous stream of bicycles. Clive used to hitch a lift every morning because he worked at Holton Heath during the War - he would hitch a lift on the back of a milk lorry, hold on the back to take him to Holton Heath then let go - I only used to leave myself about 10 minutes to get there. And that was the only way 1 could get there in time. Holton Heath Cordite Factory used nitro glycerine to make cordite. In the evening or whenever the shift would finish, there would be 2,900 bicycles coming out of their gates and everybody had to be searched - you couldn't carry matches in the place - you could have a puff in the canteen - because everybody had a puff in those days they didn't worry then - of course when I was in the Forces they gave me cigarettes every week to smoke - that was the Government - now they are shouting about it. There was a special train that used to come from Dorchester into Poole and from Christchurch, New Milton and it carried nothing else but workers to the factory. Then we had a big explosion in 1933/4 It was a great big mound of soil that we called the Big Hill, you could see it from everywhere and underneath there was the mixing place where they mixed the cordite with the glycerine and it is said someone gave the wrong order and they put the glycerine into the wrong what they call egg and it blew up and it blew The Hill. My father was over there - they had him looking for days, perhaps weeks, looking for pieces of body from the workers. They lost over 30-as far as I can remember - a lot were injured. I wasn't working there at the time, I was at the garage but you could see it and hear it from there."
"Another thing I can remember, I had only been at the school for 2 years and it must have been the second year I was there, there was a big explosion at Holton Heath. I cannot remember whether it was playtime or not or I was walking across to go to the toilets, which were across from the school but I remember seeing this big flash when the explosion occurred. It was like a flash of lighting, it was the Cordite Factory and a lot of it was underground because of explosives."
"Holton Heath, a mile square with iron railings round it, the Royal Naval Cordite Factory. The Admiralty used to come down sometimes. Marines used to patrol that fence all the time. They made cordite. I saw the stuff because I worked over there, it was like macaroni, yellow and like a tube. They used to mix this acid up and have a paste, mix the 2 together and put it through presses and it came out thin. That was for filling the big guns for the Navy and they had some explosions there. I was there at the time of one, I was walking down the road and all of a sudden there was a terrific bang and stuff was flying all over the place. I was walking towards it and what was fluttering down like bits of paper were bits of the sheds where they mixed it in. Somebody made a mistake with the acid, which was kept separate from the paste. They had what they called a mixing house where it was mixed together and there was an overspill. I tell you how tricky it was, to run it from The Hill where it was mixed down to the sheds, they had lead gutters and they used to trickle it down because it was too dangerous to handle. They used to have spills some times and had one or two explosions and I knew some of the blokes killed. When they had this big one, that was different, it erupted. They had a big building on Hill 60 and it was devastated when it went up because they had quite a lot of this stuff in store and away went the lot. 2 chaps in Sandy Lane were killed."
"They came down from the Admiralty when they had this service. It was in The Square and I was in the main office, people in purple robes at the service, Marine band."
It took ambition and opportunity to start a business but it helped bring employment to Upton:
"Frank Wyatt, the son of John Wyatt, served his apprenticeship with Burt & Vick, builders of Poole, and then in the 1914-8 War served in the Army in France and was badly wounded. He started his own building business in 1919 with the help of a lorry given by his father."
"I finished up with 15 rounds every day and more than 15 vans. The vans were petrol to start with, that was a big mistake really, with petrol we were going out farther and farther down Sandbanks and round there. I was doing all right but then when it came to pay, the customers didn't want to pay. They'd say "we'll pay you next time" and that was no good so I gradually cut back and got it right down to doing 2 rounds at Upton."
"My mother and father came from the Dorchester area, and he worked on a farm with his father, but then the 1914 War broke out and he went to France. When he came back, my mother had moved to Upton so he started to work for Mr Ballam on the timber cart, cutting trees that had died or wood for the timber yard, saw mills. Then he got a job over the Cordite Factory which was a regular wage. His brother used to live in the place next to Old Pound and he used to work for a man called Mr Horace who had the coal van at Hamworthy. Eventually Mr Horace decided he was going to emigrate and my father and his brother put their heads together and decided to take a few pounds out of the bank and take over the business and that's where the business started from."
"At that time we all had coal fires and there were the Hooper Brothers who ran the coal merchants from Hamworthy, they used to come round delivering their sacks of coal."
"They were tradesmen in joinery so after my mother and father died, the dairy was sold. One of them was working with his partner and ran a joinery business from the Marsh and the other one also worked with them up to three years ago when they retired and the Marsh was sold, so that meant the end of our family connections in the Marsh."
"He'd not really been terribly interested in the horses, he used to get up there and ride a bit and he used to help with feeding and fencing fields and things like that. The old blacksmith looked at my brother as he was watching him shoe the horse and he said, "what are you going to be then son when you leave school?" My brother hesitated a minute then this light dawned in his eye and he said "I'm going to be a blacksmith." And old Mac Sweeny said "you'll have to learn to swear good then." He'd have been about 14. He was completely besotted by the idea. He couldn't wait to leave school to go into his blacksmiths job and he started work the very next day. He left school one day and went to work for old Mac the next. And old Mac taught him all the basic black smithing skills and all the old remedies, it was very good grounding for him. I think at about that time Ponds of Wareham actually took over the blacksmiths business there. They might have taken over a bit before that, but old Mac was the boss there, there was nobody else, My brother was the apprentice. He was apprenticed to Ponds of Wareham. After a year or so he went off to Yeovil to learn his trade at college. They didn't care whether he qualified as a farrier, because a farrier and a blacksmith are different trades, anybody could be a blacksmith, but you really had to learn the trade of being an accredited farrier. Because obviously it was quite important that people know the ropes, you've got to know a lot about the veterinary side of the horses' feet. Old Mac was 70 odd and he was as thin as a bone, very wiry with a droopy moustache and always wore a flat hat of course and he smoked a pipe, which he always used to light on the embers of the farriers fire. He used to hold the pipe above it and eventually he used to burn out the bowls of his pipe. But he was a fascinating character. Eventually, he died and the forge when to rack and ruin and they just closed it down. Mac lived in Palmerston Road. My brother by that time was away working at Yeovil College. He used to go and visit Mac every so often and in the mean time I was keeping my ponies. When he had finished his qualifications, he started work on his own as a farrier in what was the old trading estate down by the St Peter's Finger. He had a little workshop there for a while and then eventually he negotiated with Sir John Lees, the old squire to open a workshop on the main road next to the old Parish Hall. The work shop was built by my brother, my father and the Lees Estate."
Upton was thought of as a stopping place on the way to Poole or Wareham but as vehicles became more available so the landscape changed and associated businesses sprang up:
"Then in the 1820's the Trust straightened and improved the route from Hamworthy Church to Bailie Corner at Sturminster Marshall, thus making the long straight section of the Blandford Road, cutting diagonally across the Dorchester Road and creating the junction to be known as Upton Crossroads where a smithy was sited for many years run by Fred Dominey and later by Tom Courtney. Early in this century the village also had a wheelwrights shop run by two brothers, Tom and Alfred Baker who went over to making coffins as wooden waggons were replaced by mechanised forms of transport."
"It is difficult to know where to start among the numerous stories I have heard, but that of Mrs Heckford's transport café is renowned. When time took its toll and she decided to retire her grandson, Brian Rigler, rebuilt the premises as a garage and café in 1960 and as 'The Oasis' it continued to serve the travelling public for another twenty years."
"There was another garage there, and that was run by a Mr Snook. Mr Snook used to run the Post Office before Mrs Harvey ran it, so I suppose he sold the Post Office to Mrs Harvey, and he still kept the garage on. They had petrol pumps just below the garage, and they used to do repairs to different vehicles. There were not a lot of vehicles about in those days. About that time, when the vehicles started getting on the road, there was an RAC man used to stand on the crossroads to direct the traffic, but you might get about 5 or 10 minutes between each vehicle that came along in those days."
"And Palmer's was always there. Ever since I can remember. It was a garage and they had petrol pumps there. They used to do small repairs, but I don't think they were real mechanics, you know, they just done it by ear I suppose, They made a living out of it. Of course they owned a lot of land. Down the back there, they owned all the land at the back so I suppose that's what they survived on, the land and the houses they had."
"Another interesting thing is the garage, it used to be called Palmers Garage, it's opposite Factory Road. They just sell cars there now, but when I was a young girl, it used to be a garage, a working garage, and Artie Clothier used to work there, I expect a lot of you will remember Artie. He died unfortunately a couple of years ago, but he was a very nice man, he never changed."
"My father started the workshop at what is now the Upton Garage and it was actually a sawmill at that time with a petrol station at the front. Father took over the works and started an engineering workshop and did war work with several ladies working for him. They were building parts for Bailey Bridges, which were used for crossing rivers in Europe."
"When we were building the Upton Garage, my father built a large lift on the front of the building, which we used to take the concrete up for the floors and roof. The thing that many people will remember was that the lift was powered by a car. It was an American "Willy's Jeep" which was attached to the lift by a rope around a pulley. I used to drive the car backwards and forwards raising the lift up and down. There were no "Health and Safety" rules in those days and you can image what could have happened if the rope had broken."
"From about 1947 to 1954, when my father sold the garage, he had a very skilled panel beater called Tiny Breaden working for him. Tiny had worked for Rolls Royce before the War and hand built Rolls Royce car bodies. So father actually built three special cars at that time. In particular I can remember building a very small racing car, like the little Cooper 500cc racing cars. Then in the early 1950s, father built a very special car, which many people will remember. It was a 2 door 4 seater coupe which was very modern at the time, with flared rear wings. The first engine he put in it was a 1923 Talbot 10hp engine, then at a later date we fitted an "Austin A40" engine."
"The garage workshop was quite a big one and my father had a workshop for repairing and building cars and another workshop for a machine shop and they had coke fires to heat them in the winter time. Bill East also operated a fly press for pressing out sheet steel items."
"As a youngster, I used to serve petrol on the forecourt of the Upton garage. We had Fina petrol originally and then Esso at a later date. In those days we had all the various grades of oil in 40 gallon drums and we had hand pumps to pump the oil into a steel jug in order to put the oil into the car. We also had "Redex" and "Carbrol" which were upper cylinder lubricants that customers could purchase at a 1d a shot and we used to squirt one shot per gallon into the petrol tank. At that time petrol was about 1s 11d a gallon, a bit different to today. I can remember one time at about 2 am, I was woken by some soldiers who were going home to Bovington Camp and they wanted some petrol. So I opened up the garage but all they had money for was ½ gallon at 1s 11d a gallon. I suppose it got them back to Bovington."
"Thinking back to the garage and repairing cars, as cars had tyres with an inner tube, if you had a puncture then the inner tube had to be repaired with a patch like a bicycle tyre patch. People nowadays wouldn't contemplate doing it but the tyre had to come off the wheel using a set of tyre levers. Some of the older tyres, like the De Dion tricycle tyres, had what they called a beaded edge tyre where they had a bead fitted into the rim which was very difficult to get off. I can remember a man came in his posh car with a puncture and I had to change the wheel, I was only a young lad at the time and I put the wheel on and asked him if he would like to check the wheel nuts to see if they were tight enough. I don't think he thought very much of that. The motor cars then were cruder than they are today of course. Cars had running boards and some of the older cars had a spare petrol can mounted on the running board. It was a general workshop as well, father used to repair all sorts of farm equipment. There was another friend of my father's out in the Swanage area who used to make very special farm equipment which were really the forerunners of the combine harvesters, they were quite big machines."
"Well then on the other side of the Coffee Tavern was a garage. Mr Hibbs used to run that, and they had a weighbridge there. Now that was the first weighbridge I had ever seen, and I can't remember another one in the area at all. They had 2 petrol pumps there, and the petrol they sold was R 0 P whatever that stood for I don't know. It was quite cheap petrol and they used to have a handle and wind it up. Then there used to be horse and waggons come in from the other side of Blandford every other day. They used to bring straw (loads of straw) for the potteries, they were the Kinson Pottery and Southwestern Pottery. The straw was for stacking the pipes with when they used to put them in the lorries, they would put straw in between them. Then there were railway trucks in the potteries to stack the pipes in - they always used to stack them in straw. And those waggons used to come through every other day. They used to go on the weighbridge to weigh. And then there was clay that came down from Beacon Hill in horse and carts and they used to weigh them on the weighbridge as well, you see. The clay waggons went down to Junction Station (Hamworthy Junction) and that was put on the railway there and it went to Stoke."
Few people had cars to go to work in and they depended upon walking, bicycles, buses and the railway.
"A couple of us used to go up to Joe's garden shed in winter evenings as he had electricity. We used to go there in the evenings and make up bicycles. He always had bicycles all pulled to pieces - the wheels out, the handlebars off, and we always used to put them back together again. Always had bicycles up there."
"He also helped my father in the garage on light jobs and used to light the fires in the workshop for us in the winter time but he also used to repair the cycles for people in the village. He had a little shed behind his little cottage, which is opposite where the hairdressers is now, and I used to go over there a lot to get bicycle parts for repairing bicycles, he always had bicycle bits."
"There were a few cars but not so many. Also cycle lamp batteries, they were like gold dust. I remember being stopped by the police for not having any lights. Of course working all week, and half day on Saturday, there wasn't much chance, if there had been any batteries in the shops, for us to be there at the right time while shops were open."
Both the bus company and the rail industry provided employment as well as transport.
"As regards the railway in Upton, that went through here before it went through Poole, that was the main railway line from London to Weymouth that came via Salisbury. The other railway only came as far as Southampton and then that was built on later through to Poole and this way. The main railway line through Upton was the London & Southern; if you went down Ropers Lane years ago, there was a stile on each side to get over the railway line and there was a sign there which said L & S Railways. It was all about going across the railway and not playing about and all that."
"The railway engines were green, the old green. There used to be one early in the morning, another mainly for carrying workmen to Holton Heath Cordite Factory and he'd be back at night time, and then there was another one that used to come through in the evening from Weymouth and he used to go through here at about 8.15pm."
"The level crossing was where the Pelican crossing is now near Butchers Lane. Now, 4 o'clock every morning you could hear a train go by and it was the milk train, and it was never late, always 4 o'clock in the morning."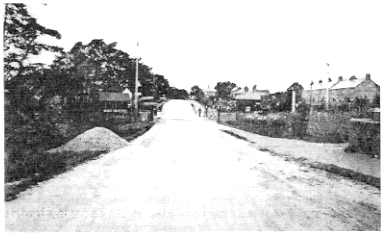 "At the railway crossing Mr East - he was the crossing keeper - he was a portly gentleman, quite big, and he had a little hut from where he opened the gates, on the other side to Mr Cooper the butchers. He was ever so funny and a very likeable man and always had a cheery word when you went by. Sometimes he had · got a little stove in there, he used to have a kettle on top and make tea, very often he used to have two men in there sitting in around a little table to play cards. This day he was playing cards and he had the winning hand, the train was coming down from Broadstone and he wouldn't open the gates until he had finished the game of cards, so the train had to stop. Another time he didn't hear the bell ring, it was early morning, about 4.00 and of course the train went through the gates coming from Broadstone. It was so funny. He was ever such a likeable man and his wife was a nice woman."
"The trains used to come up and they would stop across the crossing at Upton while they unhitched a certain amount of the guards carriage and all the rest of it, which was left further down the line and braked, while they shunted their own into Dornay Days and also it was used by Dorset Clay Products who had their own railway siding. Someone would throw the points and they would back the carriages into Dornay Days first of all, they would take out the loaded ones and pull them up the line, then shunt the rest back onto the guards carriage. Then they came back again, uncouple and hitch up the full ones that they were taking back into Dornay Days or to Dorset Clay Products. They would leave them, come out and run back down the line to hitch up the carriages which they wanted and then they would move onto Upton Brickworks and put their coal waggons in there at Upton, they had a siding there as well."
"The railway line near the Roman Road was taken up by Beeching and the sand pits finished shortly afterwards. "
"Although the brickyard had a siding and Dorset Clay Pipes had a siding, their cattle did not and they used to get off at Hamworthy junction and be driven up the road. Cattle and sheep for the slaughterhouse. "
"Then there was Palmerston Road Piggery. It was run by the Co-Operative Society and the cattle would be brought in by train to Hamworthy Junction and they would be driven up the Blandford Road South to Upton Crossroads, then driven up the Poole Road to Palmerston Road and then diverted at Palmerston Road, sheep and cattle at various times of the week."
"Before Hollands poultry farm came to Upton, there was a pig farm run by Mr and Mrs Taylor and their two sons. Opposite there down Palmerston Road the Co-op people opened a slaughterhouse."
"You could walk to Beacon Hill and Broadstone but now the dual carriageway has cut the woods in two. There was a stream that ran right through the woods and when the Slaughterhouse had had a busy day, the stream used to run red with blood. The Slaughterhouse was at the bottom of Palmerston Road."
"Now another thing in Upton that some people don't know - there were 2 slaughterhouses in Upton. One was in what is now Palmerston Road, and that belonged to the Co-Op. Now they used to have their cattle and sheep brought by rail into Poole station (and sometimes Hamworthy but mostly in Poole station), and they used to drive them up from Poole station right to Upton for slaughter, they would come Oakdale way along the old dual carriageway. When they came from Hamworthy Junction they came up the Blandford Road. Now the other slaughterhouse, was where Upton Oil Company is now. A Mr Ivor Wyatt, who was a butcher in Parkstone, had built the house that now belongs to Upton Oil Company. He built a slaughterhouse in the back yard of that house and they used to go to market and buy pigs and calves for . slaughter. I was friendly with Mr Wyatt's son and we used to go up there and watch them slaughter all the pigs and calves. It wasn't a very big place but they had a copper there for boiling water and they had a big tub, which they filled with boiling water. They used to dip the pigs in there after they were killed and they used to scrape all the hair off them to get them down to the bare skin. But sometimes they used to frighten us - if they had a big pig in there to kill it used to frighten us and we used to run and jump up on the benches. He used to slaughter for his own butcher shop. And he used to live opposite the chapel on Dorchester Road, before he had the big house. Opposite the chapel there's a bungalow, where you go into Wyatt's yard, he had that bungalow built there to live in. Now Sundays he used to take his son and me down to Parkstone to look at his butcher shop, and he always used to give me a big piece of meat and a bundle of sausages to bring home."
Other businesses in Upton depended on local labour or were one man enterprises:
"It was called Ropers Lane because during the First World War there used to be a sawmill there, Ropers Sawmill."
"The sawmill was closed just near the end of the war."
"Later I worked on Saturday mornings at the Upton bakery serving bread and cakes. Lady Lees used to come in sometimes to buy cakes and she was rather overwhelming. She was very deaf and had an ear trumpet so you had to shout very loudly at her. This worried me as we were taught to be polite to adults and you certainly didn't shout at a lady!"
"I left school at 14, and I went to work at the Post Office in Upton (which was a general stores) where I worked from 7 in the morning 'til 7 at night, for 7 shillings and 6 pence a week. The Postmistress was Mrs Harvey and she ran the Post Office and stores. I used to deliver papers. I started to learn about the Post Office, which meant on a Saturday evening I was sat there balancing the books. Postal orders in those days had a ha'penny (½d) poundage, and a penny poundage and every postal order had to be counted at the end of the week, which I didn't like (that kind of thing turned me off). If you bought a shilling postal order, you were charged a penny extra for that postal order. A sixpenny postal order - which is (we're going back to the old money now of pounds, shillings and pence) - that was a halfpenny due or ha'penny poundage. Well, all of the postal orders that were left in the box at the end of the week had to be counted and poundage added on (and we didn't have calculators in those days - it all had to be worked out in your head and entered into a ledger). At 14 years old it was quite a job. Mrs Harvey was very good and, as luck happened, I was quite good at maths. Another little job I used to have to do was count the points, because through the War everything was on points - you paid 2 points for a tin of salmon, even your sweets had coupons. We had to add up the price of everything and count how many jars of jam were in the stock room and the shop, how many bottles of sauce, how many bottles of pickle, whatever was there, you added up the quantity - and it all had to be done by the staff, you had no stock controllers coming in."
"Telegrams went through the Post Office. People didn't have telephones in those days like they do today, you were very lucky, really, if you had a phone. Now the message would be phoned through to the Post Office; the time would be entered onto the telegram (which in this case was 11 :50), and then the telegram would be written out by the Postmistress and put in a little envelope. One of us would deliver the telegram to whatever address it was sent to. This was the quickest way of getting news from one place to another (if you had a relative that died that lived in a far distant place, a telegram would be sent to inform you of that death). If you wanted to send a telegram, you would go in the Post Office, and you would pay so much for each word. And you would write the form out, and the Postmistress would say "Right, that's so many words - that will cost you so much". And that would be sent off, and it would probably reach there in a couple of hours, or 3 hours later. That would go to the nearest Post Office to wherever it was sent."
"Mr Toop of Dacombe Drive had this second hand furniture place and one of his sons, I am sure he was called Jarvey Toop, he used to ride a penny farthing bicycle round the area and especially if we had a local fête or anything, he would turn up on this old fashioned penny farthing which is quite difficult to ride. Its got a really big wheel in the front and he would sit on the saddle about 5 foot off the ground and there was a very small wheel at the back and that was about a foot or 18 inches. I think you had to stand on something to get on it, I wouldn't be able to ride one, it was all metal wheels I don't think there were any tyres on it, it must have been very difficult to ride."
"In Upton there was a man named Jarvey Toop. Now Jarvey Toop was a bit of a character and he sold second-hand furniture. Now he used to go around to these sales, and there might be a lot of furniture that people didn't buy and Jarvey would have the lot - buy everything that was left at the sales. And he'd take it back to his home in Dacombe's Lane. In those days (it was quite a few years ago) couples getting married did not have the money to buy new furniture, so they always went down to see Jarvey Toop to get fitted up with a double bed, a table and chairs and things like that. He did quite a trade, Jarvey."
"Well, before you turned the corner there was a man called Mr Toop used to live there, that's an old Upton name, he used deal in second hand furniture, he had a little car and we used to see him come back with something tied on the roof. People used to look round, he had some sheds there, well his son was a friend of mine, he used to collect all furniture and in those days people used to go looking for bits of furniture because you couldn't afford to buy new, it just wasn't about."
"One old village family was the Toop family who lived down Dacombe Lane which is where the Dacombe Estate is now. There was the old father who used to have a second hand furniture yard and some big old sheds. I can remember some lovely big old Victorian furniture which I'd love to have. It was quite a tatty place at the time and one of his sons was Jarvey who was a horseman and he used to have the horses in the field next door and he used to keep pigs. I can remember one awful time when he used to get some of his pig swill from the hospital and at one time one of his pigs was in a bad way and eventually they found a hypodermic needle sticking out of the pig's stomach. Jarvey had just taken the swill or slops from the hospital, needles and everything and fed them to the pigs, imagine that happening today? The other Toop sons were Fred, who was a French polisher and he did some lovely work, we saw him restoring old furniture, and the younger son was John or Jacko as we used to call him."
There were also traditional types of employment including working for the landed gentry:
"I left school at 14 and went to Upton House as a kitchen maid for Miss Llewellin and her two brothers, who were not there very often as one worked for the Diplomatic Service and the other was a Governor of the Boys at Walstock in Gloucestershire. It was very nice, very hard work, but things I learnt there I have never forgotten. There were about a dozen of us, cook, butler, housemaid, 2 under housemaids, myself and about 5 gardeners.
I was there for 3 years and then I trained as a children's nurse. It was very interesting there; Miss Lleweliin didn't entertain a lot but she was involved with the Council and the Guides and there were all sorts going on there at the time. We had a nice life there really. Cook was very strict; we were very well fed and looked after."
"There were 200 applicants and I was the lucky one out of 200, because my Grandfather had worked for Sir John Lees and it was just after the War and accommodation was very scarce so I lived there and I worked in Lytchett Minster School. ! used to work for Lady Lees sometimes when her regular help was away on holiday. I worked at Jarvis and Post Green and also worked for Lady Faith's mother at Rest Harrow, on odd occasions. But I was in the school for 17% years altogether. I started off as kitchen helper and then I became Cook in charge and then, when we had a new school built in St Martins Road in Upton, I moved up there when Mr Mortimer was headmaster then. I stayed there for about 7 years and then my mother was ill and I gave up for a bit."
"My family lived on the estate of Lord and Lady Rockley, Lytchett Heath (where my father was a gardener for approximately 45 years) at the farm."
"Jack Damen used to work for the Lees family, he was a wheel worker, he would do any carpentry work, but he built a house down Blandford Road for himself and we used to say "There's the house that Jack built."
"My grandparents on my father's side ~ married whilst both were working for Sir Elliott Lee's family in the late 1890s, I believe. My grandfather was coachman and gardener, and my grandmother worked as a ladies maid, they were given one of the cottages in Coach Drive, that still stands, where they brought up a family of five children. The eldest daughter did sewing for the Lees family as well as her sister, there's a picture of them with Lady Florence Lees as button workers at South Lytchett Manor."
"My oldest sister was nursemaid to Lady Lees and the second one was the parlour maid. They would be quite young, but you know being trained as nursemaids and things. Lady Lees said to my sister one day "we are building a nice couple of cottages in our spare bit of land, its away from the estate so we thought we would put two up there", otherwise Lytchett Minster is their domain. My parents were in tied cottages, if people moved farms they automatically had a house, but if they moved onto another farm that was busier, that was that. And so she said "Will you go home and ask your mother if would she like t? have a cottage because the house goes with the job and as your father's leg is getting worse and worse." Yes they were wonderful people and my sister loved it there."
"She had heard that I had left school and asked my mother if I could go and work there but not to live in, to be there from 8 am to 8 pm, at 14 years old. It was in Gorsemere, Sandy Lane and it was at the time all the friction was going on about is there going to be a war and the Prime Minister was trotting over to Germany. It was quite a big house but it was fairly new with a nice parquet floor, she was a nurse in the First World War, I forget what they called them in those days. I didn't do any cooking, I had to learn how to use a funny old bellows thing for picking up the bits and doing the stairs, I had to pump it like a bellows. It was on a stand and you moved it along with you and it was a funny old thing and failing that, you put cold tea leaves on to settle the dust and wiped them off and I'd go through the house and do what she told me to do. We used to have a little snack for lunch and I used to have 2 hours to myself at the house. But I was to sit and fold linen napkins, you know the lovely white ones, that used to come back from the laundry, I think it was White House Laundry that was in Poole at that time, and so these would come back and she would give me this huge book and she'd say now will you make something from that and my great thing to do was a water lily. I had to clean the fireplace when we were laying the fire, I used something like cladding. The whole kitchen was all cupboards from top to toe, but the drawing room with the parquet floor had a little open fireplace which was all tiles, so you just wiped it. I was paid £2 a month there when I was cleaning and £2 a month 8 o'clock to 8 o'clock and I bought my first Humber bike with the money."
"There was nothing on Lytchett Bay itself. There was a pig farm down at the bottom of Shore Road. We used to go down there with a lorry - you'll find all the remnants of the buildings. Not as pig farms as you know them now, they were in sties and they belonged to Heatherbrae chicken farm."
"Farming was of course the basis of the local economy and most families had a small holding of some sort growing vegetables and keeping livestock, The Hibbs family for example grew vegetables for the Bournemouth hotels and also ran a slaughterhouse at the crossroads where they killed pigs. Sidney Hibbs gained fame as the first local to own a motor car when Viscount Chelmsford, who lived at Yarrells, the local big house and was a former Viceroy of India, sold him his old Fiat. Those were the days before tarmac surfaces on country roads and another old resident recalled running after this vehicle in a huge cloud of dust as it trundled through the village."
"We lived as I said in farm cottages but we had ground that belonged to his father, he rented from the Llewellins, and my father used to keep 300 or 400 laying hens and keep a couple hundred pigs. We used to supply the butchers in Poole with the meat and Taylors the butchers in Poole, and we used to kill our own pigs in those days."
"It depended on the farmer I think. The stooks were like a bundle of straw, sometimes they go rounded sometimes they were sort of crossed. Then they'd take them to the yard, build these ricks and they used to stay there so long and dry out. You don't see hayricks now. Only with a big cloth on. You'd build a big rick, put it up like a house so the water would run off and they'd stay there for so long and then the machine came along, the threshing machine, it used to go round the farms in the area.
The threshing machine took the wheat out from the corn. They'd thresh it out and then they'd come along and tie it up and chuck it out again. All the corn itself would go in a big sack. It would come out of a chute with all the stalks. The wheat would be used for flour. That was before it got ground. The stalks would be used for animal bedding and eating. These steam tractors used to come round and you would have belts flapping everywhere to drive the different parts of the threshing machine, which you see at Blandford Steam Rally now. They were huge machines. There are still one or two about that are on show. Now it's all done by combine harvester. The seed would separate and go into a sack and the other would go along and chuck the bales out from a long belt right on the top and then what you'd do is build another rick.
Men would come along and get hold of these bundles of straw and stack them up. Stack them up and then store it until they wanted it for animal bedding or fodder. The field was then left barren until the next year and then ploughed again by horses. Barren means left without anything being planted in it. Hay was a lovely job, making hay. Not like it is now, all in a square or some of the big round ones now. They cut all this hay down and then you'd toss it and chuck it about and put it up in heaps with pitchforks. We would take it back to the yard and make hayricks again. There's a local man there. His main job for Yeatmans of Poole, which was a seed merchant, was going round all Dorset cutting this hay out. When it had been in the rick so long he had a big knife and he'd cut it out in big squares, tie it up and take it away for fodder for the animals. We used forks, big pitchforks, a long handled fork and put it onto a cart, like the one we went to Sandbanks on. With wooden sides and ends, wooden sides which slope outwards. Hay carts. You used to toss it up there and somebody up on the top just spreading it about and then when they got up over the top the horse and cart used to take it back and put it in the ricks."
Finally, a very old cottage industry grown from necessity was the making of buttons, which developed and became known as the Dorset Buttons.
"The Old Button Shop and the cottage next door in Lytchett Minster were built in 1934 but underneath was the old original stable floor, built of cobble stones with the drainage trenches for the horses stables. The cobbles were from New Foundland. Due to the big fish trade, boats went over there and when they came back, they were ballasted with New Foundland pebbles which were big pebbles, probably something like 4-6 inch diameter. They would empty the pebbles down in Poole on the shore and people would collect them and use them for all sorts of things. The shop had been connected with the Dorset Buttons, a large industry in Dorset as it was a cottage industry with people making buttons in their own homes. Buttons, thousands and thousands of them, were exported to Europe. They were taken by farm cart to the ports to be exported. The Button Shop has the only stock of these antique buttons left in the world. My wife revived the craft when she took over the shop and we have been in the shop for 30 years now. The craft has grown again and there is quite a lot of Dorset buttons actually being made.
It was an industry for 300 years. In those days the button had toggles like on a duffel coat. Then they brought out linen buttons, which were taxed, but Dorset Buttons were hand sewn and stitched so they were not taxed and it became an important industry. There were many types of buttons, tiny little ones that were put onto gentlemen's waistcoats for example, were called Tinies or Singletons. They had the cardboard buttons, Blandford cardboard buttons, which were actually made on a little curtain ring and stitched round the ring and then across like spokes and finally interwoven in the centre to create a pretty pattern on the button. They were used for ladies dresses. Quite rough ones were made which were used for working people's smocks. Then they had Dorset Knobs which were little buttons, round ones about 3/8" high; now there is the Dorset Knob which is actually a biscuit. Some of the different methods of button making have disappeared or been forgotten and they can not be made now, The industry was started by Abraham Case in Shaftesbury and the Old Button Shop itself was a collecting post for the people who made them locally. They would bring the buttons to the shop to sell and then they were taken on the staging post.
The buttons that my wife has now were found in the attic of an old cottage in Lytchett Minster; they were going to be thrown away but luckily Lady Madeleine Lees managed to get hold of them and she sold quite a lot of them to museums around the world, particularly in America. By selling them she actually managed to raise the money to produce the 2 religious films she made, one was called "The Messiah" and I know that Dr Chown actually played Jesus Christ in that film.
The button industry continued until the Great Exhibition of London in 1851. When the Great Exhibition, occurred they brought in machines to make the buttons, and of course hand made buttons became obsolete because they could not compete. Within 3 years the whole industry had died and many hundreds of families in Dorset were destitute because they had been earning their money making buttons in their homes, although they were only paid a shilling a gross (144) to make them. Mothers and fathers and the children would make the little steel rings and the whole family would be involved, it was a real cottage industry. The Government then started to pay the fare for people from Dorset to emigrate, the button makers were so destitute they emigrated and there are a lot of people in Australia whose grandparents were button makers in Dorset."
"My granny was one of the original button makers, I have an Echo picture upstairs that was taken."
The Old Button Shop is a building of history and also, it is said, of ghosts:
"Lytchett Minster has a ghost, it is a grey lady and she's supposed to walk over from the Button Shop to the St Peter's Finger. Now I've never seen her but the cottage in the shop has always had a pleasant ambiance about it, various people have told me there's a presence here, and sometimes there's a very distinct smell of beer and tobacco. About 10 years ago, I'd been quite poorly and I'd been on very strong pain killers for about 12 weeks; then I stopped taking them, so I was getting some funny feelings, sort of hallucinations. Early one morning, about quarter past three, I walked upstairs and looked into the garden. The back garden appeared to be full of people, men, apart from one lady, who stood in front of the men with her hand clasped in front of her, and her head down. I didn't know if she was wearing a bonnet. I dismissed it, and thought it was a hallucination. I was talking to a lady who used to live in the old vicarage and she said "Oh that lady you saw was Mrs Skinner and she used to live in that house in the village and it was said she would never look you in the eye so she always kept her hands clasped in front of her." So I don't know.
Then another time I was sitting in the sitting room and it was a late August afternoon. We have some French windows opposite the window to the road and when anyone passes that window you can see them reflected in the French windows. I thought I saw a figure of a man reflected in the French window, and when I turned around the curtain was drawn. So what that was I don't know. It was a big man I think passing through the room, it was like a pencil drawing almost, very strange, and no feeling of eeriness, coldness or anything, Just like a time slip.
Then last February, I was sitting in the kitchen about 4 o'clock in the afternoon, my husband had gone out and locked the back door. It was dark outside and I was sitting in the kitchen writing a letter. Everything was quiet and the radio was off. I heard footsteps in the hall, on the flagstones. I thought my husband had come in but I didn't hear him open the door. Then I was aware it wasn't his footsteps so I called out. The footsteps stopped and a child's voice or a girl's voice said "Pigeon, pigeon". I went outside and there was nobody there. What that was I really don't know. It sounded like somebody calling a cat or a dog."
These memories came flooding back to people as they sat and talked, hours went by without effort and now we have accumulated these stories as they connect us to the way it was in Lytchett Minster and Upton during the last century. There was concern that some people would tire when recounting their experiences but one lady summed up the general feeling when giving their memories to us:
"I can talk for England, I can."